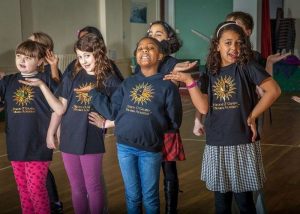 Every child is unique and at the Helen O'Grady Drama Academy all of our students are treated equally and given the opportunity to shine, regardless of their level of confidence or ability. We avoid audition and ensure all our students feel encouraged and nurtured within our classes, enabling them to develop at their own pace.
With a focus on personalisation, each teacher at the Academy seeks to gradually integrate their students within the class until they are fully immersed in the fun classroom environment and unaware of any inhibitions they may have had before entering the classroom.
Our teachers teach in an energetic and engaging way to capture their students' attention and encourage creativity. We aim to make our hour-long sessions an exciting and fun-packed environment for our students where they are able to develop their social interaction and communication skills, engage creatively and express themselves confidently, both physically and vocally.