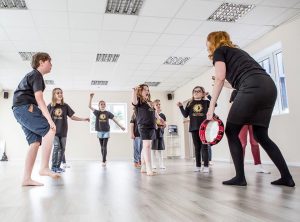 CLASS STRUCTURE
Our specially written curriculum and the specialist and on-going training of all teachers, means students will have a balanced, fun-filled lesson every week. Although the structure remains the same, each week is different and, with the different age groups offered, a child can join the Academy at five years of age and stay until they are 18 without ever repeating a lesson.
Age groups cover:
Lower Primary – 5 to 8 years
Upper Primary – 9 to 11 years
Youth Theatre – 12 years plus.
Many countries around the world also now offer Kindy Drama – a pre-school programme for 3 and 4 year olds and, in some areas, adult classes are also available.
The Academy year is made up of three terms: Terms 1 and 2 concentrate on developmental drama with each primary class consisting of introductory activities, speech exercises, movement and a creative improvisation or mime to music. In Upper Primary we also introduce mini-scripts so older students become familiar with using text.
Whilst Youth Theatre follows a similar plan, activities in these classes are age appropriate and the challenges increase as the students become more independent.
Regardless of age, the main aim of our programme is to build confidence, self-esteem and skill in verbal communication. All this is achieved through the unique, diverse curriculum we teach each week.
Term 3 sees all students in the Academy working on a short scripted piece of work which they will present to parents and friends at the end of the Academic year. Although there are presentations for parents at the end of each term, this is a culmination which sees every child on stage and involved at all times.